Relax in cool comfort this summer
Cana Air has been a trusted provider of heating, air conditioners installation, water heaters, attic insulation and heat pump services in the greater Toronto area for more than 13 years. We can provide you with a selection of high quality choices that will suit your needs and budget.
Having a proper air conditioner is essential to your home. If you're unsure about whether you should rent or buy one, let us help you choose the option that suits your cooling needs and budget.
Benefits of Buying
Own the air conditioner yourself
No more rental fees
Benefits of Renting
No upfront costs, ongoing maintenance or costly repairs
Get any applicable government rebates without the upfront costs
Hassle-free and convenient
Repairs
Don't stress about long and hot summers with a broken air conditioner. Worry not, our certified experts who have 13 years of experience will get the job done. Let us help you stay comfortable and cool all summer long.
Air conditioning repairs should be no sweat. Avoid expensive repair costs and stay cool with one of our Cooling Protection Plans.
Cooling Protection Plan
No pre-inspection needed
Live telephone support 24/7
Most parts and labour covered
No deductible
You could avoid unexpected cooling repair costs with our protection plan.
$14.99
(no term)
Heating & Cooling Protection Plan
Heating Protection Plan
AC Protection Plan
Most parts and labour covered1
No pre-inspection needed
Live telephone support 24/7
Unlimited service calls
No deductible, no annual claims limit
$21.99
(no term)
Your search for the perfect air conditioner is over. We carry a variety of brands and models, one of which will fit your cooling needs and your budget.
13ACX Air Conditioner
| | |
| --- | --- |
| Energy Efficiency | Meets or exceeds 13.00 SEER |
| Comfort | Single-stage scroll compressor |
| Quiet | As low as 76dB |
| Quality | 10-year limited warranty on parts and 1 year on labor |
Elite XC16 Air Conditioner
| | |
| --- | --- |
| Energy Efficiency | Up to 17.00 SEER |
| Comfort | Multi-stage scroll compressor |
| Quiet | As low as 73dB |
| Quality | 10-year limited warranty on parts and 1 year on labor |
York YCD
| | |
| --- | --- |
| Energy Efficiency | Up to 15 SEER |
| Comfort | Single-stage scroll compressor |
| Quiet | As low as 74 dBA |
| Quality | 10-year limited warranty on parts and 1 year on labor |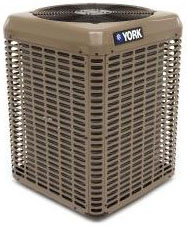 York YCG
| | |
| --- | --- |
| Energy Efficiency | Up to 18.5 SEER |
| Comfort | Single-stage scroll compressor |
| Quiet | As low as 72 dBA |
| Quality | 10-year limited warranty on parts and 1 year on labor |

Armstrong Air 4SCU13LB
| | |
| --- | --- |
| Energy Efficiency | Up to 14 SEER |
| Comfort | Single-stage scroll compressor |
| Quiet | N/A |
| Quality | 10-year limited warranty on parts and 1 year on labor |

Armstrong Air 4SCU16LS
| | |
| --- | --- |
| Energy Efficiency | Up to 16 SEER |
| Comfort | Two-stage scroll compressor |
| Quiet | N/A |
| Quality | 10-year limited warranty on parts and 1 year on labor |
• Choose Award-winning HVAC Company
• Join 10,000+ Satisfied Customers
Talk to Our HVAC Expert Today